Books by John Wilson
Over the years, John Wilson who is UK's best known fisherman, author and TV personality has been on 19 safaris with us escorting anglers targeting Nile perch. We owe John a very big thank you for all the publicity he has given us which, without any doubt, has put us on the map in the angling world. Congratulations John on your knighthood for your service to the British angling public.
Listed here are just some of the books which contain chapters about John's adventures on Lake Nasser. The easy way to get a copy of these books is to go to http://www.amazon.com
Nile Perch 'The Ultimate Guide for Anglers'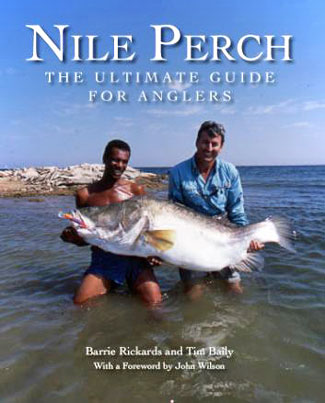 This book is co-authored by Tim Baily who pioneered Nile Perch safaris on Lake Nasser and is an authority on the subject of fishing for this huge predator and Barrie Rickards an experienced pike angler and fishing journalist who was captivated by Nile perch and Lake Nasser.
It is only since the 1980s that ordinary anglers have been able to fish regularly for the legendary Nile perch, which is one of the biggest freshwater fish in the world. This book is a comprehensive study of how they can be caught and provides the reader with information about all aspects of the Nile Perch including their biology, ecology, distribution, and even how to cook them.
The book concentrates on Lake Nasser where most of the modern Nile Perch fishing techniques have been developed. However, the authors also consider other places in Africa where these enormous fish occur and can be captured. Brimming with information, the book explains everything there is to know on the subject and is also beautifully illustrated with over 150 colour photographs.
If you would like a copy of this book please send an email to peter@african-angler.net
Cost including air mail postage
To UK & Europe £30 €40
To USA $45